Douglas Thwaites
Biography
Douglas Thwaites really wants to be an awe-inspiring zombie apocalypse hero and survivalist but its just too much effort. So he wrote a book instead.
Apocalypse Hal's 'whatcha gonna' guide to the zombie apocalypse is his first book and combines his passion for science, illustration and zombies. It grew out of a little-known webcomic that he started publishing in 2013. Douglas is passionate about comics, thinks ninjas are awesome and prefers his zombies to be of the old school, shuffling, brain craving kind.
Back when floppy disks were cutting edge technology he completed a degree in biology and followed it up with an associate diploma in graphic design. Employment has included patent examiner, publication manager and general office clerk. He currently resides in Canberra, Australia, were he juggles a full time job, a family, prepping for the zpoc and his creative ambitions. He is lousy at juggling.
Books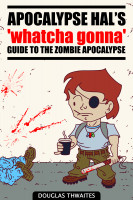 Apocalypse Hal's 'Whatcha Gonna' Guide to the Zombie Apocalypse
by

Douglas Thwaites
Price:
$3.99 USD.
Words: 147,010.
Language: English.
Published: July 29, 2017
. Categories:
Fiction
»
Horror
»
Undead
Worried about an onslaught of ravenous brain-munching undead? Australian zombie survivalist Apocalypse Hal is here to help. This comprehensive, well researched and lushly illustrated guide will help you survive and thrive in the maggoty horror of the zpoc. It is packed full of infographics, chapter checklists, narratives, bonus survival tips and references.
Douglas Thwaites' tag cloud