Mr. Silence
Biography
Mr. Silence is an experienced fiction author who recently found a passion for writing Erotica. He is an attorney by day, smut author by night. His stories revolve around exhibitionism, cuckoldry, humiliation, reluctance, and sexual awakenings. There may be an occasional foray into the more perverse - bizarre/gross substances, creepy-crawlies, and bestiality. Mr. Silence takes a qualitative approach to writing that is severely lacking in most Erotica. Rather than turning out volumes of drivel just to make a buck, he seeks to create characters that resonate, stories that thrill, and experiences that push the very limits of eroticism. Mr. Silence understands that arousal is more than just physical; extreme arousal is only achieved by a deep emotional connection to the characters.
Books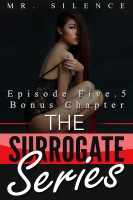 The Surrogate - Episode 5.5 (bonus chapter)
by

Mr. Silence
Courtney and her husband wanted nothing more than to have a child but when they discovered her husband's sperm count was low, they took matters into their own hands and called on Eric to impregnate her. Eric did far more than that; he opened Courtney up like a flower, exposing her to the joys of sexuality, in private and in public, all under the nose of her timid husband.
Mr. Silence's tag cloud
Mr. Silence's favorite authors on Smashwords