Murray Koren
Biography
The author was born and bred in Brooklyn, NY and spent his early life in Coney Island with a brief interlude in the Army at the end of WWII. His education in Stuyvesant HS, an institution for gifted children prepared him for his further studies in Brooklyn College where he earned his BS and culminated in a Master's degree in Chemical Engineering from NYU and then a PE (Professional Engineer) license. His college studies were interrupted by Army life in Korea, which was an interplay of military service and very humorous episodes. At the time of Coney Island's decline he was influenced by and introduced to a unique and fascinating group of characters. He resides in NYC with his wife of 50 years who influenced him into writing this memoir about the events and characters he met in the Army in Korea and in Coney Island. He has two children and is completing an additional memoir.
Where to find Murray Koren online
Books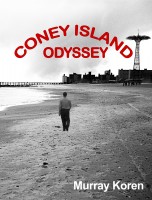 Coney Island Odyssey
by

Murray Koren
In this memoir, the author has captured the spirit and breadth of Jewish folklore, which once existed in the life of Coney Island. From the struggle of his parents; his father who paid dearly for his citizenship through an era in the thirties; his mother who attempted to decorate a dismal six family walk-up; and to himself who passed through a difficult Bar Mitzvah.
Murray Koren's tag cloud