Muskan Virk
Muskan came into this world as a miracle after her parents' 16 years of marriage. At the young age of six, Muskan learned about the injustice that Malala Yousafzai had gone through, and was devastated. She was propelled to take action and wanted to make a difference. She started by raising funds to donate to the Malala Fund and other local charities. However, despite the difference she was already making, Muskan didn't want to stop there. She asked her mother incessantly about why there was so much gender inequality in such modern times. In order to shift her thoughts on this subject to a more positive state, her mother gave her a journal and encouraged her to write one thing every day that she was grateful for. She wanted Muskan to focus on all the positive things in her life. As time passed, her mother forgot about the journal, until Muskan came to her later with a journal filled with all of the things she was grateful for and how she had transformed her negative thoughts about gender inequality into positive thoughts on how she can use her influence to make an impact.

From those beautiful daily gratitudes, 365 Days of Gratitude was born. Muskan is inspired by the knowing that her words will make a difference in people's lives and would like to make a difference globally with her charity called Helping Hands, whose mission is to help homelessness in every country. Partial proceeds of this very book will be donated to Helping Hands as a continued effort in ensuring you are also a part of making a difference.

Muskan lives with her parents and her dog Butterball.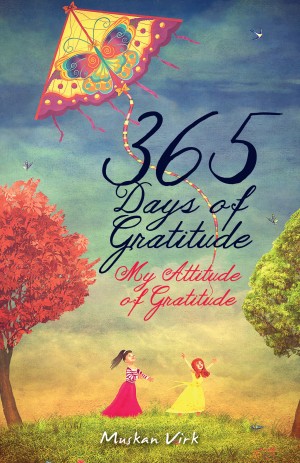 365 Days of Gratitude: My Attitude of Gratitude
by

Muskan Virk
An inspiring book of gratitude written by a 6 year old girl who is on a mission to change the world for the better. Part of the proceeds from this book will be used to help build Muskan's foundation - Helping Hands - which will be helping homeless people and others in need.