Mysti Parker
Biography
Mysti Parker is a full-time wife, mom of three, and a writer. Born and raised in Kentucky, writing has always been her first love. After many years of pursuing other things, she began her writing career in earnest in 2009. Look for more romantic tales from her fantasy world of Tallenmere, where magic, passion, murder, and mayhem are a part of everyday life.
Where to find Mysti Parker online
Books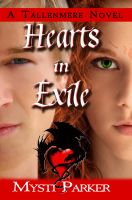 Hearts in Exile
Loralee Munroviel, daughter of Leogard's High Priestess Arianne, had no idea what she would face when she arrived by boat ten years ago and was left alone in exile. All she knew about Draekoria's inhabitants was written in one tattered notebook. Now, her life revolves around keeping Drae's descendants happy. Never in her life did she imagine being a Dragon Keeper.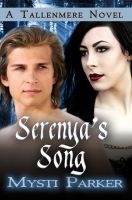 Serenya's Song
Serenya Crowe may be a half-elf commoner, but she's no ordinary woman. With the ability to interpret dreams, and a birth defect that forces her to wear gloves, she's endured gossip and the cruelty of her husband, The Earl of Summerwind. All she's ever wanted is to live a quiet life and raise a family. When she meets the new stranger in town, her world and her heart, are turned upside down.
Mysti Parker's tag cloud