Asurede Wilkin
Biography
Twenty-three year old college student, wanderer, writer, citizen of the universe. Frequently spends time travelling between the sandcastles and the snowmen, binge watching tv shows, resisting the urge to break things....etc, etc. Was born in the middle of a blizzard but grew up under the island sun and can't choose a favorite of the two...
Where to find Asurede Wilkin online
Books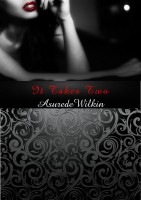 It Takes Two
by

Asurede Wilkin
Kai and Sydney have a passionate relationship that sometimes drives them crazy. Throw in a handsome best friend and a troublesome ex and tempers may tend to flare. When Sydney accuses Kai of cheating, will that set off fireworks that could burn their relationship to the ground and send them both over the edge? Or will compromising evidence implicating someone else but them back on common ground?
Asurede Wilkin's tag cloud