Pamela Clark Bickle
Publisher info
Alice Clark tackled the challenge of her son Rick's brain injury in 1970 and became an early advocate for traumatic brain injury. Active in several TBI organizations in Florida and New York, she and Rick traveled across New York and gave speeches on behalf of Think First, a program aimed at educating teenagers about brain injuries. For nearly thirty years, Alice continued to learn about TBI from personal experience, trial and error, and from the many professionals she met before she began work on No Horns, No Trumpets. She enjoyed golf, horseback riding, scuba diving, and downhill skiing, and took classes in painting, photography, bartending, and flying. She became a stockbroker in her 50s. Her uncanny ability to always see light at the end of the darkest of tunnels was a gift she generously shared with others.

Traumatic brain injury survivor Rick Clark's competitive drive and desire to succeed thrived even after his motorcycle accident. Under his mother's guidance, he finally found his niche when he began writing stories about his experiences with brain injury, and writing became his career. As the founding and current editor of the North Country Regional Traumatic Brain Injury Center's newsletter, Sudden Impact, Rick writes heartfelt stories focusing on the positive aspects of life with brain injury and always extolling the many virtues of positive thinking. He enjoys public speaking and one day hopes to compile an collection of his stories.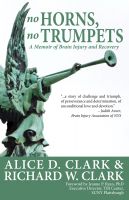 No Horns, No Trumpets: A Memoir of Brain Injury and Recovery
by

Alice D. Clark
A mother's life shatters when her 15-year-old son is the victim of a motorcycle accident. When he comes out of the coma, doctors tell her no treatment plans for traumatic brain injury exist in 1970. So Alice Clark brings Rick home. Using her head and heart, she guides him from sitting in a wheelchair to downhill skiing, from being unable to speak to writing and editing a monthly newsletter.
Pamela Clark Bickle's tag cloud