NJ Damschroder
Biography
NJ Damschroder grew up in Massachusetts, and loves the New England Patriots more than anything. (Except her family. And writing and reading. And popcorn.) When she's not writing young adult adventure novels, she does freelance editing and works part time as a chiropractic assistant. She and her husband have two daughters they've dubbed "the anti-teenagers," one of whom is also a novelist. (The other one prefers math. Smart kid. Practical.) You can learn more about her and her books at www.njdamschroder.com.
Where to find NJ Damschroder online
Books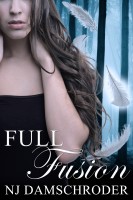 Full Fusion (Book 1 of the Fusion Series)
Roxie's life changes when she learns she's a being from another dimension, separated from the light that is her soul in a traumatic birth 18 years ago. Aided by her best friends, Roxie tracks down the criminal using her light and faces a horrible dilemma—the only way she can stop him from ripping apart two worlds is to fuse with her light…which could be tainted by the evil with which it was used.
NJ Damschroder's tag cloud