Paul Johnson
Biography
Paul Johnson was born in Buffalo, New York and is a graduate of Syracuse University's Schools of Broadcast Journalism and English Literature. After his 7+ years of exposure to professional traders at KWHY-TV/The Business Channel in Los Angeles, his immersion in the trading strategies of the world's top traders, and trading success far beyond his expectations, he launched a stock pick service based on top quality stocks setting up in explosive chart patterns at http://www.StockConfidential.com . He went on to write numerous eBooks with the intention of helping other traders reap bigger profits from trading, inluding "Finding Stocks With Hidden Explosive Profit Potential," "Finding Bottomed Out Stocks Ready for Blastoff," and "The Ghosts of Traders Past."
Where to find Paul Johnson online
Books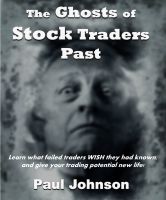 The Ghosts of Stock Traders Past
by

Paul Johnson
Using the "13 deadly sins" that condemn most people's trading careers to slow deaths, discover more profit-improving stock trading secrets in this concise eBook than from many of the much larger and highly technical books you've ever read on trading stocks! It's a virtual checklist of what will instantly and dramatically help you improve your trading success.
Paul Johnson's tag cloud