Nasser Farag
Biography
Dr. Nasser S. Farag passed on to the glorious presence of the Lord on Nov. 18, 2013. He was the translator and contributor to the English edition. He studied in Egypt, Holland, and the USA, and has been a longtime missionary/professor. He authored a non-confrontational apologetic/evangelistic book that expresses the ultimate greatness of God only in Christ which has been distributed widely in English, Arabic, French, Spanish, Turkish, Hindi, Oriya, and Swahili, with Farsi to come. His last last book, What Account will we give Him?: A Reminder for Christian Leaders has recently been printed posthumously.
Books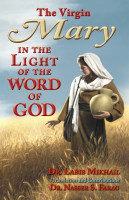 The Virgin Mary in the Light of the Word of God
by

Dr. Labib Mikhail

&

Nasser Farag

(translator)
The Virgin Mary in the Light of the Word of God fills a tremendous need for a concise, elegant, Biblical treatment of Mary. Dr. Labib gives Mary her due full honor while fending off the many faith-damaging myths perpetuated about her. It is a straightforward declaration of the Gospel of Jesus Christ that leads to the eternal and abundant life our God always intended for humankind.
Nasser Farag's tag cloud