Nathan E. Meyer
Biography
Nathan Meyer has published close to 20 novels over his career. Most recently, he completed an apocalyptic thriller for Relay Publishing, and a SF/Horror novel, JUDAS PROTOCOL, for gaming company Privateer Press. His 2011 fantasy for Wizards of the Coast, ALDWYN'S ACADEMY, won the Scribe Award for best YA media tie-in. He began his career working as a house author for an imprint of Harlequin Publishing where he wrote 15 novels across three separate military thriller series. He is currently publishing under the collective pseudonym, Rowan Casey, on an urban Fantasy series with 12 other professional authors.
Books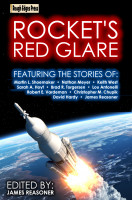 Rocket's Red Glare
by

James Reasoner

,

Martin L. Shoemaker

,

Nathan E. Meyer

,

Keith West

,

Sarah A. Hoyt

,

Brad R. Torgersen

,

Lou Antonelli

,

Robert E. Vardeman

,

Christopher M. Chupik

, &

David Hardy
The stories in Rocket's Red Glare exemplify the adventure, courage, and sense of discovery so vital to the American spirit. Whether daring to cross interstellar space or battling alien conquerors when they come right to our own backyard, the characters in these tales never give up, never stop fighting for their country, their lives, their honor. Packed with space opera excitement!
Nathan E. Meyer's tag cloud