Moment Seyama
Biography
Nhlanhla Moment Seyama is a writer who has been writing poetry and short stories on online platforms for the past five to six years, including the community Hello Poetry. I have studied music for four years and now I focus on my writing and make time for music when I am not penning. I have recently finished my second book, the first one was an auto biography but was never published. I write on different subjects, from Romance to Science Fiction to Adventure and Action to Political Drama. I am on a journey to explore a broader audience.
Books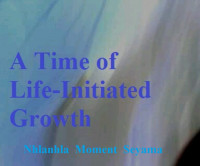 A Time of Life-Initiated Growth
by

Moment Seyama
A Time of Life-Initiated growth is a journey of growth and an outlook on life expressed through the compilation of various short stories.
Moment Seyama's tag cloud