Nick Fisherman
Biography
I am a speculative fiction writer. I started when I was thirteen years old, and progressed about in the way that you would think. I'm currently working on publishing my first book, with stories taken but revised from my website. My site is in blog format. Every single day, I publish a new story. On the weekdays, for the most part, I post independent microfiction of about 200 to 500 words. On Saturdays, I run series that are about three times that length, and ultimately add up to novellas. When I reach the end of one, I move on to another. On Sundays, you'll always find a new installment of "The Advancement of Mateo Matic". Since I write these week to week, I don't have the benefit of foreshadowing, or of editing earlier plot points in order to account for later developments. That's why the published version is different. Please both buy my book and visit my website, early and often! And find all my social media accounts.
Where to find Nick Fisherman online
Books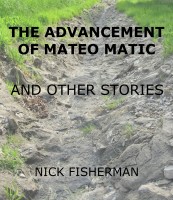 The Advancement of Mateo Matic and Other Stories
by

Nick Fisherman
A man is only able to live for one day every year. Every 24 hours, he is sent forward in time exactly 365 days.
Nick Fisherman's tag cloud