Nikki Ferguson
Biography
Well, I'd rather discuss my first completed book and how I arrived at the ready-to-publish stage. I began writing Izzy and Eliza...an alien tale, on my back porch during the hottest summer Oklahoma has ever seen. Sure, I could have stayed indoors, relaxing in my favorite recliner, a glass of cold iced tea in hand. Unfortunately, I gain little insight and even less inspiration inside. So for several hours each day, I lugged my laptop outside and typed away until my fingers were so sweaty, they slipped off the keyboard. Seriously, I love to write, but there is just something special about my back porch.

By the end of last summer 2012, not only had I become seriously dehydrated, but I had also completed my first draft. After several reads, I clipped a little here, added a little there and ended up basically rewriting the entire book! Then I wrote it all again. I lost count how many times I reviewed, revised and reedited, but it took much longer than I suspected. The writing was the easy part, I guess. It's the editing that will kill ya! Truth be told, I learned how difficult it was to actually follow through and finish a book from beginning to end. It was no easy feat, but I did learn from my first attempt.

I am well over half way through the first draft of the second book in the series and so far, it's a fantastic adventure taking place all over the universes. Unless I rewrite it seventy three times, I should be done by fall of 2013. Here's to getting it right the first seventy two times!
Thanks for reading about me- even though I'm my least favorite subject to discuss!
Books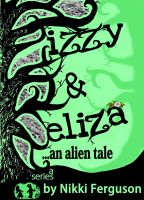 Izzy & Eliza...an alien tale
by

Nikki Ferguson
(5.00 from 3 reviews)
Izzy meets Eliza when he's sent to her planet on an assignment. Even though they come from different worlds, literally, they become inseparable. When Izzy discovers his home planet is in danger; he seeks help from an eclectic group of friends. Have you ever met a Firithian or wondered if Fester Tails are real? If you simply enjoy a good alien tale, then read Izzy & Eliza, the first in a series.
Nikki Ferguson's tag cloud