Nivi Engineer
Biography
I'm a writer, software developer, and mom. I earned my Bachelor's degree in English from Case Western Reserve University, focusing on Creative Writing, a Master's degree in Computer Science from Washington University in St. Louis, and a Master of Fine Arts in Fiction from Spalding University. I blog for GeekDad/GeekMom, and live in Cleveland, Ohio with my husband, three kids, and dog.
Where to find Nivi Engineer online
Books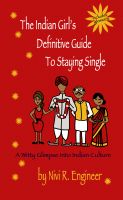 The Indian Girl's Definitive Guide to Staying Single
by

Nivi Engineer
"IT professional seeks Hindi-speaking homely girl with US citizenship who can cook and make chai. Please send biodata and photo." This indispensable guide may offer answers to those questions plaguing single Indian women everywhere: - Does this sari make my marriage photo look fat? - If I drink chai, but no Indian sees me, do I become more marriageable? - How can I avoid marrying that guy?
Nivi Engineer's tag cloud