Karen Olson
Biography
Karen Olson is a freelance writer, editor, researcher, and translator. She attributes her
decision to become a writer to the encouragement
given by Richard Nixon when he visited her at her family home in 1962.
Books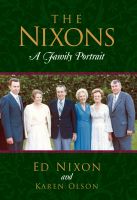 The Nixons: A Family Portrait
The complexity of Richard Milhous Nixon is legendary. This book unravels some parts of the mystery with a portrait of the 37th President's ancestral roots and family life that manages to combine fraternal loyalty with human fascination.
Karen Olson's tag cloud