Anne Alexander
Biography
Anne Alexander grew up in Ohio in a loving, Christian family. She married her high-school sweetheart, and they lived in northern IN for seven years before moving to Atlanta, GA where she currently resides.
Anne became a young widow and a single mom when her husband suddenly died of a massive heart attack. She shares practical and spiritually uplifting insights to guide widows through the unique web of decisions that they face, a web that that continues to change as we age. Anne has had an ongoing ministry to widows for twenty-five years— through weekly small group Bible studies as well as individual church groups and women's conferences. Clearly, her heart for widows is unmistakable.
Books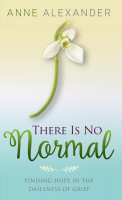 There Is No Normal: Finding Hope in the Dailyness of Grief
by

Anne Alexander
Over the past thirty-plus years, the author has navigated her way through a maze of decisions, as well as through the murky waters that she encountered as a widow and single mom. If you are looking for some realistic guidelines regarding the grieving process, this book is for you. Anne's style of writing is personal, warm, and sensitive with dashes of light-heartedness sprinkled throughout.
Anne Alexander's tag cloud