Noelle Sherrard
Biography
Noelle Sherrard was a practicing naturopath, herbalist and homeopath for more than twenty years. Her interest and commitment to the health industry led her, in 2010, to write her first book – Crystal Clear, a book describing the harnessing of the combined potential power of crystals and water. She was co-founder and principal of a college for traditional medicine for seven years and latterly lectured at an indigenous college educating Aboriginal people in the combination of traditional bush medicine with traditional western herbal medicine. This terminated when, at the age of seventy seven, Noelle was diagnosed with Non-Hodgkin's Lymphoma. This prompted her to put pen to paper again and in Cancer or Chemotherapy, she describes her ensuing journey.
Books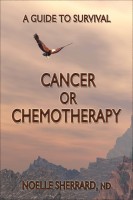 Cancer or Chemotherapy - A Guide to Survival
by

Noelle Sherrard
This is one person's journey through the maze of lymphoma, chemotherapy and complementary therapies that supported the experience.
Noelle Sherrard's tag cloud