Luke Peters
Biography
Just a dad, a high school teacher who wants kids to be able to see the story in their heads as they read - because so many kids today can't. Read aloud to your kids. Every day. If you don't think it's that important, take 15 minutes and read the intro of Jim Trelease's "The Read Aloud Handbook - 7th Edition". You'll be floored. Amount of time spent reading aloud to children, and amount of books available in the home, are the largest factors in determining success in school and work - life, basically. They also have a significant impact in terms of lowering incarceration rates. In a nutshell, if you read lots to your kids, at or slightly above their level, your children are far more likely to succeed in school and life, and are far less likely to end up in jail.
Where to find Luke Peters online
Books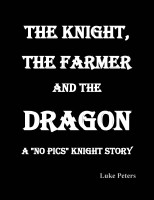 The Knight, the Farmer and the Dragon
by

Luke Peters
A short bedtime story designed to foster the imaginations of young children, particularly young boys. With no pictures. On purpose. Too many children nowadays cannot "see" the events in the book playing like a movie in their head. This forces that imagination to come alive. Read this book at bedtime on an ereader or phone with the lights out, and their eyes closed. They'll be enthralled. Enjoy.
Luke Peters' tag cloud