Norm Robillard
Biography
Norman Robillard, Ph.D., is a microbiologist who spent 20 years in the pharmaceutical industry before founding the Digestive Health Institute. His goal was to develop holistic treatments for digestive illnesses based on a clear understanding of the underlying causes of disease. Norm was the first to recognize a connection between bacteria in our intestines, nutritional malabsorption and the symptoms of acid reflux. Based on his extensive research, he theorized that a pro-absorption diet would limit the growth of symptom-causing bacteria. To prove his theory, Norm initiated a clinical study to test the Fast Tract Diet System in people who suffered from heartburn. The study results show conclusively that the Fast Tract Diet Program is effective in the treatment of chronic acid reflux offering an alternative to acid reducing Proton Pump Inhibitor (PPI) and H2 blocker drugs.
Where to find Norm Robillard online
Books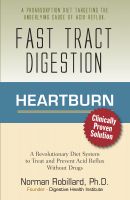 Fast Tract Digestion Heartburn
by

Norm Robillard
Fast Tract Digestion addresses the underlying cause of acid reflux using a novel diet that is low in fermentation potential (symptom potential). The main cause of reflux is carbohydrate malabsorption and small intestinal bacterial overgrowth (SIBO) that produces gas which drives acid reflux. But the book also covers other underlying causes of SIBO such as motility issues, antibiotic use, etc.
Norm Robillard's tag cloud