Ntuthuko Ndlovu
Biography
Nompumelelo Ntuthuko Ndlovu is a creative, who is inspired by everything visual; she also has a passion for laughter. Ntuthuko aims to write more children's books that would tackle issues from an early age.

She is a single mother of a beautiful little girl. She not only has a love of life but food, travel and constant learning. And if it's considered unconventional, she aims at making it her normal life. As a child she wanted to be a photographer, choreographer and interior decorator. The interior decorator part has been accomplished.

Family and friends make up her life. Ntuthuko also work on her interior decorating business and hopes to get back into her art again. When she's not at home or working, she hosts lunches outside the city to encourage woman of all age groups to get together and learn about each other, establishing relationships and breaking barriers.
Books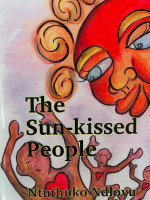 The Sun-Kissed People
by

Ntuthuko Ndlovu
The Sun-Kissed People are a people of great origins. Their Chief often tells of the love story between the Sun and the Moon and how they loved each other so much that they wanted to create life from their love. Thus they created the first people, Moon created form from the earth and Sun created a heart from a kiss. The Sun's kiss would flare so bright that it would shoo the Moon away...
Ntuthuko Ndlovu's tag cloud