A. M. Gray
Biography
Andrew Gray was born in Bangor, Northern Ireland. Several years after this, he passed his Cycling Proficiency Test on the first attempt. Surfing the tsunami of this success, he was encouraged to study English Literature at Queen's University, Belfast. He is the proud owner of a piece of paper that declares him to be an Unmarried Man of the Arts. He collected another piece of paper from Cambridge University that said he had learnt how to teach English – but only to children who already know how to speak it. Now, he makes his living topping up the English of English speakers and drawing diagonal lines, in coloured ink, on the things they write. In his spare time, Andrew became a Married Man of the Arts, and has two daughters to demonstrate his success in this enterprise. He loves these three females more than all his guitars and amps put together.
Where to find A. M. Gray online
Books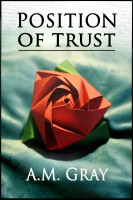 Position of Trust
by

A. M. Gray
A distinguished grammar school is shaken by a sex scandal. But that is not the only malpractice at the time; it is just the one reported in the newspapers. Rose Maylie, a school secretary, recounts the secrets, lies and betrayals that brought a fine old institution to shame. This darkly humorous novel blends elements of mystery, romance and literary fiction.
A. M. Gray's tag cloud