Candy O'Donnell
Biography
Candy O'Donnell was born in Carmichael, California and always loved to write. This was how she expressed herself. While young, she won many writing awards but her first piece gained her recognition in the seventh grade. She wrote a piece about her mother's losing battle to leukemia.


Candy is attending University of Cincinnati for an MS in Criminal Justice. The subject has always intrigued her.


Spirits and ghosts were also commonplace in her family since her life has always been filled with so much death. Her grandmother taught her never to have fear and to reach for the stars no matter what she put her mind to, and that is just what she is doing. Candy's writing has branched out into many genres, but the paranormal aspect still fascinates her more than anything because she understands what draws people to it.
Books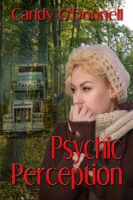 Psychic Perception
Carrie Dowd sensed murder—she knew how it was done, the circumstances surrounding the person's disappearance, and the turmoil the victim endured. But who did it always evaded her, even after a missing girl's mother reached out for help. Carrie's dreams and life always dowsed in the tragedies of others.
Candy O'Donnell's tag cloud