Ofra Peled
Biography
At present, I work as CEO of Policy Check. This company reviews life and senior executives' insurance policies in order to find past calculation errors that translate into amounts owed to policy owners at present.
My educational qualifications prepared me for most of my jobs. I am a CLU (Chartered Life Underwriter) and hold a B.A. degree in Capital Markets – Insurance and a Master's degree in Business Administration.
In addition to my professional career, I lead a very happy family life with my supporting husband and my lovely daughters, Tal and Maya.
Videos
ABC book series by OFRA PELED - 7WH stars
A series of books, developed by 7wh stars, aimed at teaching the ABC in a pleasant and enriching environment "Embracing the ABC with love".After mastering the ABC, the kids would be happy to learn about business thinking, on Ofra Peled's book series "The direct road to the business world".
Books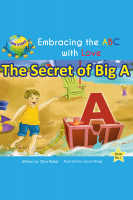 The Secret of Big A (Embracing the ABC with Love Book 1)
by

Ofra Peled
Are you looking for a children's book that entertains and teaches at the same time? Your search ends here! "The Secret of Big A" is the first in a series of 27 books that will help your children learn the English alphabet, while taking them on a magical journey through the world of letters! The books adopt a learning method based on the view of Prof. Gerhard Roth, an esteemed neurologist.
Ofra Peled's tag cloud