Oma Laralea
Biography
Oma has been writing stories since she was twelve years old. She has a strong interest in science fiction and mysteries. She wrote her first novel, somewhere around 200,000 words in length, when she was thirteen; the story was a science fiction fantasy. She is hoping to publish some, if not all of the stories she has written over the years, and the new ones she has written.

Oma's writing style is interesting, intelligent and enjoyable. Please feel free to send a comment/critique and Oma will do her best to response to you. And of course, please tell your friends about Oma's stories.
Books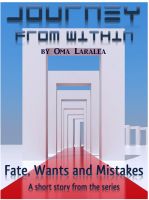 Fate, Wants and Mistakes
by

Oma Laralea
Moving through time or moving through space. Can we do both? Could time and space be bridged? It had been tried once before with fatal consequences. Now, over a decade later, Mayne had a chance to try it all again. Hopefully, with a different outcome.
Oma Laralea's tag cloud