Omar Ayar
Biography
I was born to be a dead-end sign at the crossroads for trouble. I could always see it coming from a distance, not knowing which way it would go, dust vortices of the devil, howling women, men braying for blood with their steely machines, children laughing at a madman. I would let the trouble get real close, before I ran. That's how I played the game, and I'm still around to tell the tales.
Where to find Omar Ayar online
Books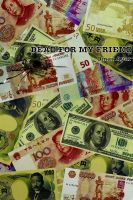 Dead For My Friend
by

Omar Ayar
Faking money is the easiest way of making it. A perfect counterfeiting machine for any currency is sought after by the underworld. A globetrotting detective is hired by a sinister client to seek it out. The trail begins from the murderous Pak-Afghan border, hopping across Asian and European capitals, in a battle of wits with international mafias. The money is an illusion but the corpses are real.
Omar Ayar's tag cloud