Muhammad Omar Iftikhar
Biography
Muhammad Omar Iftikhar, has over 350 articles published to his name in various English-language publications of Pakistan. He is a regular contributor to Young World (Daily Dawn), US Magazine (The News), Daily Times, Pakistan Observer, South Asia Magazine, The Frontier Post and is a regular movie critic blogger at the Express Tribune Blogs. He occasionally contributes write-ups on social issues to Gulf News. He has penned over 100 opinion articles focus on geopolitics and international relations with a focus on South Asian nations' especially Pakistan, Afghanistan and India's relations with that of the West. He not only worked as a Strategy and Planning Executive at Symmetry Group, Pakistan's leading digital media advertising agency but also as the Assistant Editor of Slogan Magazine and South Asia Magazine. He has been associated with South Asia Magazine as a regular freelance contributor since 2010. His writing career began on July 10, 2004, when his first article was published in Young World, a weekly publication of Daily Dawn. Some of his finest achievements include winning a third prize in 'The News International's' 'US Magazine Short Story Writing Competition' (2007) for his story 'One of a kind', standing third in US Consulate's 'Twitter Poetry Contest' in May 2013, and being awarded with an Excellence Award in the field of journalism in a national contest conducted by 'The Youth Republic' in 2013. In 2013, 'Oxford University Press, Pakistan' selected his story 'The Dream' along with 98 other stories from Pakistan to become a part of an anthology titled 'Karachi: Our Stories in Our Words' which was launched at the Karachi Literature Festival (KLF) 2013. The book was edited by Ms. Maniza Naqvi. Omar's short stories have emerged as finalists during the three consecutive seasons of Pakistan's Rawalpindi-based Daastan's theme-based short story writing competition, "The Stories Untold." In 2017, Omar wrote 50,000 words at the National Novel Writing Month (NANOWRIMO 2017), a US-based annual creative writing project, and emerged as one of the winners from Pakistan. Currently, he is working on his debut novel, a science fiction novel set in modern-day Karachi.
Where to find Muhammad Omar Iftikhar online
Books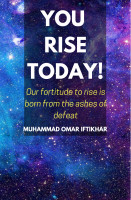 YOU RISE TODAY!
by

Muhammad Omar Iftikhar
This book, "You Rise Today!", dwells to inspire and motivate readers of all age groups. You will go on a journey of self-discovery as each chapter discusses a certain value, ideology or a moral characteristic you find close to your heart. This book talks about the tests, trials, and tribulations we experience and learn from that adds value to our character.
Muhammad Omar Iftikhar's tag cloud