Orwell Kafka
Biography
Orwell Kafka is the nom de plume of an American expat. He holds a Master of Science in Education, is a retired military field-grade officer and former history teacher. He is a staunch advocate of peace, non-violence and participatory Democracy. He defends the U.S. Constitution, Freedom, Democracy and the 1st Amendment. He acts with integrity and his philosophy is to expose hypocrisy and deception where and when he sees it. His primary focus is satire since direct comments indicting the wealthy and powerful, which he has labeled the Privileged American Kleptocratic, Plutocratic, Oligarchic, Aristocracy, are incendiary and have become unacceptable in a free and open society along with the fact that direct commentary has been too easily marginalized by America's current power structure. In these increasingly oppressive times he publishes under a pseudonym for fear of political repercussions and reprisals leveled at his truth-to-power free speech.
Books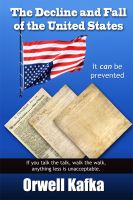 The Decline and Fall of the United States
by

Orwell Kafka
Our nation is declining rapidly and spiraling into the bin of long forgotten history. There is still time to save our great nation from extinction. We don't have to create anything, re-invent anything or do anything radical or drastic. All we have to do is be America! - The great nation as described in our Declaration of Independence, Constitution and Bill of Rights. It's that simple.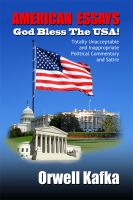 AMERICAN ESSAYS God Bless the USA!
by

Orwell Kafka
Over 50,000 words for only $2.99! A lotta laughs at a low, low price! Contains a fair amount of comedy, a great deal of satire, a healthy portion of sarcasm, a peppering of naughty words, and some hard-hitting political and social commentary - but not much serious stuff, we're 'Merka, we don't do serious. Essays and short easy to read pieces, totally appropriate for bathroom reading.
Orwell Kafka's tag cloud