Barbara Kay
Biography
The author, Barbara Kay, was born in the late 1940s and grew up in a leafy suburb of Birmingham in the UK. Home these days is a self build in a quiet backwater of Shropshire (UK) where, together with Walter, she enjoys a rural lifestyle. Over the Wall was initially written in response to Jason and Richard wanting to know more about their father's early life and in particular his legendary escape.
Walter rarely spoke of it but in December 2016 he was taken on a tour of The Dana as a surprise for his 81st birthday. (The Prison, originally built in 1793, was decommissioned in 2013 and currently operates as a tourist attraction). He retraced his steps for a fascinated audience and later that day accepted an invitation to return and take part in a History Day. For over half a century Walter's past lay hidden from all but family and a few trusted friends. Following his visit to The Dana he felt the time was right to share his extraordinary story which in turn proved to be a perfect opportunity for Barbara to launch her book.
Books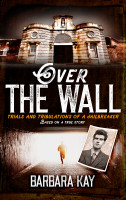 Over The Wall: Trials and Tribulations of a Jailbreaker. Based on a True Story
by

Barbara Kay
The story opens in 1950 when a scrawny, undernourished lad of 15 is about to embark upon a criminal career. Set against the backdrop of an impoverished childhood in the Black Country, easy money and good times beckon. Borstal awaits, where violent encounters and a brutal regime shape the future.
Barbara Kay's tag cloud