Francis Adewale
Biography
Francis A. Adewale is an assistant public defender, pastor, civil rights activist and public administrator. Born in Ilesa in southwest Nigeria, he graduated from Nigerian Law School in 1992 and practiced for eight years with one of Africa's top ten law firms in Lagos, Nigeria. He was also a lay pastor with one of Africa's fastest growing churches, Redeemed Christian Church of God.
In 1999, Francis and his family emigrated to the United States and in 2005, he became a U.S. citizen. Also in 2005, he was ordained a pastor by Pastor David and Alice Darroch of Spokane Dream Center. For over 10 years, he has been involved with teaching at the Dream Center in both their Bible School and Men's and Women's Discipleship Programs.
He is a member of the Washington State Bar Association, Nigerian Bar Association and American Bar Association. In 2012, he completed his Masters in Public Administration degree with honors.
Mr. Adewale is a regular speaker at many forums in the Inland Northwest of the United States as well as in Nigeria. In addition to his work with the Public Defender's office, he holds a free legal clinic at Spokane Dream Center and also assists minority businesses in the Spokane area.
His heart for service is also evidenced by his work as a director with Spokane's Refugee Connections, a nonprofit organization that connects refugees to resources within the Spokane region as well as a nonprofit public interest law firm – PMCI, patterned after Spokane Center for Justice, in his homeland of Nigeria. The Center focuses on five main areas: civil rights, discrimination, government accountability, poverty and the environment.
Over the Mountains is his first book and reflects his passion to see believers fulfill their potential and reflect the glory of Christ.
Books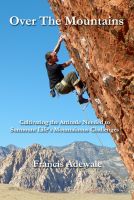 Over The Mountains
by

Francis Adewale
Life is like a mountain. Masses of people are at the bottom, but the few who distinguish themselves are at the top. The outstanding few who will stand at the summit will endure hardship, and summon something deep within themselves, higher than the mountain before them, to enable them reach the zenith. What should a Christian do when faced with life's difficult challenge? Find the answers...
Francis Adewale's tag cloud