T.T. Fletcher
Biography
T.T. Fletcher was born in Northern California, into a loving, no nonsense, working class family. T.T. grew up in the San Francisco Bay Area, where the weather was perfect and small town life was idyllic. He graduated from San Francisco State University in 1985, with a bachelor's degree in theater. He liked San Francisco so much, he spent the next two decades living there. He taught English in South Korea, worked on a cruise ship, tended bar in Alaska, drove a truck long-haul, pitched cards in a Poker room, and worked at Yellowstone National Park. After this series of adventures, T.T. Fletcher returned to college and earned an A.S. degree in railroad operations then was a "marked up" conductor for the BNSF Railway.

T.T.'s life is led by adventure, not by the pursuit of money:

"We all ended up somewhere--
with our various, uncertain lives in tatters--
and our pockets filled with foreign coins.

T.T. Fletcher is currently working blue-collar during the day, and writing erotic gay fiction at night. He is currently planning his next great adventure.
Books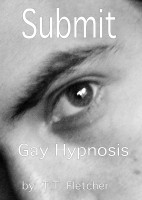 Submit
by

T.T. Fletcher
Seven stories of domination and mind control. An anthology of gay hypnosis. The Hypnotist and the hypnotized struggle for power. Hypnosis used as a method of the master to force the slave. BDSM of the mind. Who will resist? Who will submit?
T.T. Fletcher's tag cloud