Paul Krupin
Biography
Former US government scientist and once-upon-a-time lawyer (best kind), this author of numerous books and inventor of a search engine technology, is also known as an alpha dog publicist (also best kind), who would much rather be fishing on the Columbia River, which is less than a mile from where he lives in Eastern Washington State. He's has hundreds and hundreds of clients who range from NY Times best sellers to first timers. Favorite Quote - You reach happiness and success when you help the people you can help the most and get rich at the same time.
Where to find Paul Krupin online
Books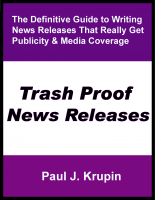 Trash Proof News Releases
by

Paul Krupin
(5.00 from 2 reviews)
Trash Proof News Releases is a tool designed with one specific goal – to get you publicity in your target media that achieves a return on investment that rivals and even exceeds your best marketing. It offers media everything they need to run with the story using you and the resources you've arrayed and meet their needs in today's fast paced environment and ever changing technologies.
Paul Krupin's tag cloud