PJ Lang
Biography
PJ Lang was born in UK but spent his teenage years in Africa. He has lived, worked and consulted in six African countries, North and South America, the Middle East and seven European countries.
Leaving school he worked as a Chemical Engineering Technician, Fireman, Paratrooper, and Ambulance Driver - Paramedic.
He planned on being a Smokejumper, but decided to do something much more dangerous, he got married instead.
Changed careers and worked in the development of early Operating Systems, Relational Database Development and Retail Automation. Founder of a Software Application Development company he sold up and moved on to Business Consulting and Project Management.
His later working years were spent designing and implementing Inter-Bank and Inter-National systems for Financial Payments and Fund Transfers.
Visiting the Neruda museum, 'La Sebastiana' in Valparaiso, he decided that Pablo Neruda had the right idea. 'An endless view of the sea, where he could he could live and write in peace', and so relocated to where the next piece of land beyond the 'Beach' is Antarctica.

2016
Books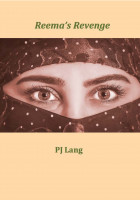 Reema's Revenge
by

PJ Lang
In late 2008 a dozen by-elections took place for the House of Commons. Traffic accidents, ill health and family matters caused the vacancies, so we were told. The greatest loss of military life since the Falklands took place not in Basra, Kandahar or Helmand, but just outside Swindon. We were not informed of it. Terrible things had happened to a family in Iraq. Reema's family. Reema took revenge.
Saddam's Sister
by

PJ Lang
You set the price!
Words: 176,540.
Language: English.
Published: September 20, 2017
. Categories:
Fiction
»
Adventure
»
Action
A successful business man rescues Reema as a favour to a former colleague. MI-6 believe she holds the secret to Saddam's hidden billions. She has been tortured and her family killed in an attempt to get the information. Nursed back to health, her sister in law is found and re-united. The two decide that honour must be restored by wreaking retribution on UK politicians, police and military.
PJ Lang's tag cloud