Paul Naughton
Biography
Paul Naughton is a novelist from nowhere a.k.a. Fremont, Nebraska. His interests include science fiction and fantasy, urban fantasy, mythology, history, alternate history, aviation, technology, role-playing games, online gaming, simulations, anime, and underwater basket weaving.
Where to find Paul Naughton online
Books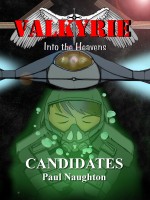 Valkyrie: Candidates
by

Paul Naughton
Daniel Logan just wanted to get on with his life, but as Humanity's chances against the Ixo invasion grow longer, the teen is forced to join in the war that has already cost him his parents and join Project Valkyrie's attempt to build a new type of starship to turn the tide. In the process they create a new breed of pilot from the collection of teenage candidates: the Pod Pilot.
Paul Naughton's tag cloud