Patrick W. Gallagher
Biography
Patrick W. Gallagher is Host of Animal Farm (HOAF), NYC's premier reading series for the newest and best satirical and/or critical writing in any genre. His fiction and essays have appeared in Gawker Review of Books, n+1, The New York Times, The Adirondack Review, Vol. 1 Brooklyn, Mr. Beller's Neighborhood, and elsewhere, and he holds a PhD in Comparative Literature from NYU.
Where to find Patrick W. Gallagher online
Books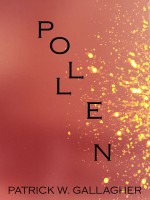 Pollen
by

Patrick W. Gallagher
The right-wing "I Trust My Boss" movement provides hope and order to U.S. society, but when it collapses following a brief Internet service pause, the economy tanks. A cabal of graduate students and literary agents save the day by using money laundered from the sale of POLLEN, a drug manufactured secretly by the state to control troops, to inflate a financial bubble in memoirist-backed securities.
Patrick W. Gallagher's tag cloud