Paul Thompson
Biography
Paul Thompson lives in Southwest Riverside County with his wife, two teenage young adults, two dogs, two cats, a corn snake, and a parrot who bites (really hard). His other three adult children have long since moved out of the home leaving behind fond memories and a stray pet or two they brought home for mom or dad to raise in their absence (hence the many animals in the house). Over a year ago, Paul had some extra time on his hands having his Fridays furloughed at work. Rather than become despondent (or get a second job), he used his newfound freedom to discover characters and a story were lurking just beneath the surface of his conscious self. AIM LOW is his first venture into storytelling and evidence he wasn't entirely waisting his time (though debatable depending on your point of view after reading the story).
Books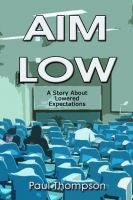 Aim Low: A Story About Lowered Expectations
by

Paul Thompson
(5.00 from 1 review)
William Dunlop has set out to change the world through his 'demotivational' philosophical system and has lowered his own expectations for success. Angered by the wave of 'self-help' gurus peddling advice to a consumer market of folks looking for answers to life's difficult questions, William sets out to correct the misconception that we need experts to tell us how to be happy.