Padraig Murphy
Biography
Padraig Murphy

Biography:



Padraig recently completed post Graduate Studies from the National University of Ireland, Galway in Irish Studies with emphasis on Irish Literature and Archeology. Pat holds a BA in Journalism from St. Bernard College.

Pat lives in Ponte Vedra Beach, Florida and operates Centerpoint Marketing, a successful marketing company concentrating on the Marine Industry in the Southeastern United States.
After receiving his BA he worked as an on air personality and news reporter with WKUL radio, WMBR radio, WTVT, as well as CBS TV/ radio, UPI and the Associated Press. He has published/filed and contributed a number of articles on a wide variety of subjects including The America's Cup, Irish history, Literature, European Union politics and crime. Pat has taught English and Communications at both the high school and college level.

Pat worked for the Valvoline Oil Company as Division Manager of the Southeast and Caribbean for fifteen years. He operated Eleuthera Charters in Hatchet Bay, Eleuthera, Bahamas – a bare Boat Sail Charter Service.


Placebo is Pat's first novel. He is currently working on his second novel Sereng's Stone and a non-fiction piece An American History of Ireland.


Padraig holds his Captain's papers from the US Coast Guard and is working on his private Pilots license. He holds his master divers certification and is an avid sailor.

He has one son, James who is studying Marine Biology at Armstrong International University in Savannah, Georgia.

Pat has travels extensively. He enjoys photography, Fly fishing and Americas Cup racing.
Books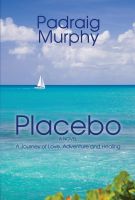 Placebo
Sailors believe it is unlucky to change the name of a boat. Placebo was the fourth name. The sailboat Placebo was a 47-year old derelict when Michael Collins discovered her and brought her back to life. In many ways,Placebo would repay the favor. Placebo becomes Michael's life boat after unraveling following the loss of his wife and daughter.
Padraig Murphy's tag cloud