Pam Kono
Biography
I have sold several magazine articles to Christian periodicals, so my short story "God's Little Gifts" goes off in a totally different direction, some would say. I have a weak spot in my heart for the down-and-out. I myself have been there. The goal of my writing is to illuminate the essence of the "underdog," thereby hopefully educating the unsympathetic among us. "There for the grace of God..."
Books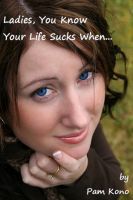 Ladies, You Know Your Life Sucks When...
Ladies, whether you're married, divorced, with or without kids - you'll relate to these you-gotta-laugh-or-you'll-cry day-to-day situations!
Pam Kono's tag cloud