Jo Jo Gunnar
Biography
Seeing you've showed the interest to look at this offering, you might well be asking: "Just who is Jo Jo Gunnar? I might well answer, by saying: "That would be me." As you would likely find this threadbare response far less than satisfactory, let me answer by asking: "Just who might you be?" Don't get me wrong, I don't mean to sound cutsie or glib, but, it seems to me there couldn't be a more confounding question. I could expound a bit, by saying I'm a this or a that. But, whatever I said, just as with Alice, the hookah smoking caterpillar, would say: "Yes. But... WHO ARE YOU!" This, my friends, is the eternal question. One that, each and every one of us was put here to answer. Seeing that's the case, who I am, or what I've done, doesn't interest me nearly as much as does the answer.
Come to think of it, the question's not too bad either!
Books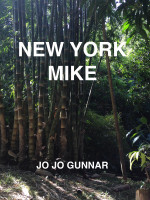 New York Mike
by

Jo Jo Gunnar
"Call me Epidemetheus," requests the narrator. His adventures reveal deep philosophical aspects of life as the metaphorical hapless brother of Prometheus.Unique in its exploration of philosophy, New York Mike romps through western intellectual literature, film and art in a Walter Mittyesque exploration of challenges encountered by an expat American in contemporary South East Asia.
Jo Jo Gunnar's tag cloud