Mike Hollywood
Biography
In January of 2003, Mike Hollywood spent two months living and traveling in the Cook Islands, surviving a cyclone (hurricane) on his inter-island steamship trip to the Northern Group islands. He has since returned to the islands in 2004, 2008 and 2012 to research the 2nd and 3rd edition of this guidebook. Besides the Cook Islands Handbook, Papa Mike has published, "Papa Mike's Palau Islands Handbook" in 2005 and "The West Indies on $50.00 A Day" in 2000. He currently resides in Ocean Springs, Mississippi, where he is working on revised editions of both his Palau and Caribbean Handbooks.
Books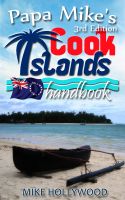 Papa Mike's Cook Islands Handbook, 3rd Edition
by

Mike Hollywood
Travel to a South Pacific Paradise that has changed little in the past century. To the islands of beautiful beaches and the friendliest people in the world. This guidebook written in a relaxed style, full of helpful information, presented with a touch of humor and the author's personal opinions will allow you to visit this paradise and discover all fourteen islands of the Cook Islands chain.
Mike Hollywood's tag cloud