Papri Rudra
Papri Rudra is an ERP consultant, working in the field of Information Technology. She did her engineering from NIT, Durgapur and her MBA from IISWBM, Kolkata.
Her mother tongue is Bengali but having spent her childhood in Bokaro Steel City and also having lived all over India, in the course of her career, she is fluent in all the three languages-Bengali, Hindi and English. She now lives in USA, with her husband. This is her first novelette.

An avid reader herself, she believes that the most common place things in our lives are not always as they seem and that there are interesting discoveries,waiting to be made about each one of us.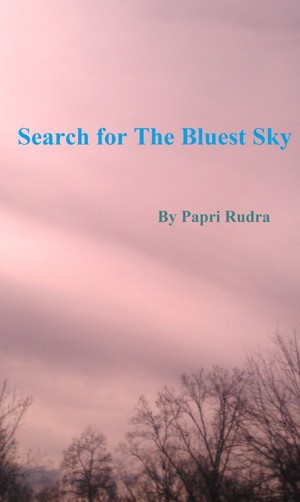 Search For The Bluest Sky
by

Papri Rudra
The story of twin sisters Rashi and Trisha; the unique bond they share and how that shapes their entire lives.The story,is presented largely through the eyes of Rashi's daughter Neeli. The cultural background of the characters in the story is Indian Bengali(People from a state in Eastern India).Hence, it was important to introduce some Bengali words,to depict the flavour of the tale.