Sherry Guyberson
I, like most people enjoy talking about myself, it can very well be a journey into self-discovery. But this is not fiction, and I am having a difficult time finding my flow to explain who I am.

I was always weird and different; I could see and feel things in a way that was totally different to others. Not on a huge level but more than enough to know there was so much more going on than we could perceive. I always had a deep desire, like a fire burning in my soul, to learn more about the important things of life. I was always looking for answers, exploring everything metaphysical that I could get my hands on. I still remember fondly the glorious times sitting on the floor of the different libraries engrossed in a plethora of topics from the 100's and 200's book shelves.

In the late 80's I spent time in Egypt absorbing history, learning hieroglyphics and numerology. I lay inside the sarcophagus in the King's Chamber of the Great Pyramid. I sat between the paws of the Sphinx and listened to the morning prayers as the sun rose. My soul actually wept in two locations because I somehow knew that at one time long past this had been my home. Shortly after I returned, I went to Malibu and trained to be a regressive hypnotist. I took classes in channeling, crystals, divination methods, astrology and many others. I had many more psychic experiences as I slowly opened up the portal to the paranormal side.

I have been progressively learning that what seems to make us different is the same as what makes us alike! We all crave the same things. Connection and acknowledgement. We are so blessed to have unique perspectives on every single aspect of our reality, and yet that one most important factor can bring out our greatness or make us feel alone, abandoned and unwanted. For some reason being different hasn't been looked upon as a virtue.

My views on life, death, spirituality and self-responsibility are my own. Created uniquely through my own experiences. My journey has given me great advantages into seeing the bigger picture and opening my heart to everyone and everything no matter how different! I feel that our purpose is to uplift others giving them unconditional love to see their own greatness.

I am so blessed to be surrounded by a loving and supportive circle of friends and family. They give me the greatest gift of all, allowing me to be myself as I explore who I intend to be. I am learning to practice what I preach, Allow, Accept, Acknowledge, Ask, and Anticipate.

As I continue to write I will explore more of my innermost self, ever questioning everything, even my experiences because I am the observer. I will consciously weave my own perspectives and feelings into the characters, and will probably continue to channel information from another reality. It is amazing how many times I have read over newly written material only to question where it came from, because I know I didn't write it.

My favorite authors/speakers are Neale Donald Walsch, Bruce Lipton, Gregg Braden, John Edwards, Esther Hicks and Abraham, Doreen Virtue, Colette Baron-Reid and Sonia Choquette. If you are familiar with these names you will notice the contexts of their teachings are Spiritual, Paranormal and Scientific. I love how it all comes together!

My days are filled with homeschooling the kids, writing, photography, making movies, traveling, gardening and raising butterflies in the summer. I am still involved in the paranormal, and plan to use upcoming experiences in future books.
Paranormal Summer Indigo Moon Rising Trailer
Paranormal Summer book one of the Indigo Moon Rising series.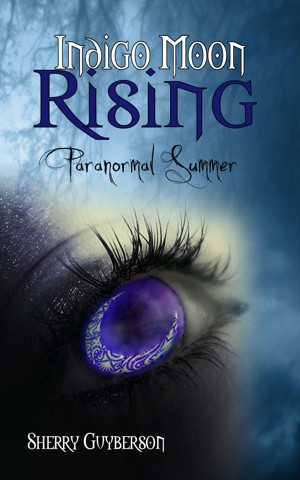 Paranormal Summer
by

Sherry Guyberson
(5.00 from 2 reviews)
The forces of light and dark collide as three teens wield their new found supernatural powers. Engaging in séances, past life regressions, healing, clairvoyance and magic they realize that everyone in the town possesses abilities beyond explanation. The further they explore the spirits and ghosts that have sought them out, the farther down the rabbit hole they fall.