The Park Literary Group
Agent info
The Park Literary Group was founded in January 2005, when Theresa Park and several colleagues left the venerable literary agency, Sanford J. Greenburger Associates. Theresa had been an agent at Greenburger for more than 10 years, but at the age of 37 was eager to try building a new venture. A full-service literary agency, The Park Literary Group represents fiction and nonfiction with a boutique approach: an emphasis on servicing a relatively small number of clients, with the highest professional standards and focused personal attention. With a full-time foreign rights director, a director of business and client affairs, and excellent relationships with film and television co-agents in Los Angeles, the agency brings to bear excellent resources and a wealth of experience in exploiting all rights associated with an author's work.
Where to find The Park Literary Group online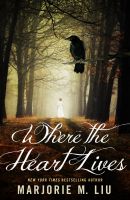 Where The Heart Lives
by

Marjorie Liu
When Lucy is cast out by her father, she finds shelter and employment with the mysterious, golden-eyed caretaker of a small, rural cemetery. There, against all odds, she discovers a safe haven, acceptance—and, perhaps, love. But this new home is haunted by secrets, and a terrible, unnatural loss that is linked to the forest that surrounds them and harbors its own deadly mysteries.
The Park Literary Group's tag cloud