Anne Woodman-Howe
Biography
Pastor Anne Woodman-Howe has been an ordained Lutheran pastor for 23 years, serving in Southwestern Pennsylvania. She was raised in South Dakota and attended colleges in South Dakota, Wyoming, Ohio and Pennsylvania. her doctoral project was about congregational discernment and was the beginning of what has now become her book Coming Home. She has one daughter, Julie, and lives with three fantastic felines, Tobey, Cokey, and Midnight.

Pastor Anne is currently serving as a pastor in Southwestern Pennsylvania and is a certified Godly Play teacher. She is developing a website called GatheringinGrace, writing classes on Spiritual Practices, exploring becoming a Biblical and Celtic storyteller, learning the guitar and autoharp, and writing a book on The Lord of the Rings.
Books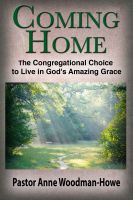 Coming Home: The Congregational Choice to Live in God's Amazing Grace
by

Anne Woodman-Howe
Does your congregational life bring you closer to Jesus? Is Jesus at the center of your congregation? If not, Coming Home is the book for you and your congregation. Coming Home is based on the author's experience of Jesus not being the center of congregational life. It explains the reasons for this, how it can change, and challenges your congregation to journey Home to God.
Anne Woodman-Howe's tag cloud