Patrick Rael
Biography
PATRICK M. RAEL - Patrick has a Bachelor of Science degree in Computer Science, 1990, at the University of New Mexico in Albuquerque. He worked 10 years (1988-1998) in the U.S. Geological Survey doing IT and Computer Graphics at locations in Albuquerque, Little Rock AR, and Reston VA. He was part of the USGS Technical Advisory Committee on IT. He took a year off to write more. He joined America Online in Reston VA from 1999-2005 and did software engineering using perl, mason, DBI and shell scripting. He took a year off to write more. He joined Lumeta Corp from 2006-2011 (Lumeta Corp is a Bell Labs spinoff). He did software engineering working with FreeBSD, automating installation, upgrades and install via CD, and field upgrades. Patrick left Lumeta Corp in early 2011 to publish his first book 'Penzar Journal of advanced ideas'. He likes problem solving and prefers Unix OS.
Where to find Patrick Rael online
Books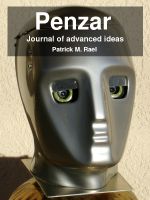 Penzar: Journal of advanced ideas
by

Patrick Rael
Patrick Rael provides his own solutions for several extremely challenging problems in nature, science, and the humanities. From tornadoes to android robots to physics and more.
Patrick Rael's tag cloud