Dennis Paulaha
Biography
B.S. and M.A. degrees in Economics from the University of Minnesota. Ph.D. in Economics from the University of Washington. As a college and university professor, taught macroeconomic and microeconomic theory at the principles, intermediate, advanced, and graduate level, monetary theory and policy, environmental economics, and special issues courses. Wrote economic/investment newsletters with as many as 70,000 paid subscribers. Reviewed in magazines and newspapers. Interviewed on television and radio.
Where to find Dennis Paulaha online
Books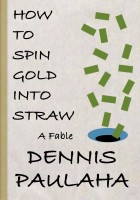 How To Spin Gold Into Straw
by

Dennis Paulaha
A pro business, pro people, pro growth, pro freedom fable. Truth and facts versus ideas; that is the story. Real freedom and wealth versus dogma and doctrine; that is the choice. Because in the ongoing struggle between facts and ideas, it is truth and facts that can lead to greatness, and ideas that are always the greatest threat to what we have and what we can have.
Dennis Paulaha's tag cloud