Paul Gorman
Biography
Before retirement, Paul Gorman was one of the - if not the - most expensive business strategists and marketing masterminds in the world. He performed what seemed to be sales and profit miracles for virtually every company that heeded his advice.

Private clients paid £3,000 per hour to seek his counsel by telephone, or 25-33 percent of the gross profit increases he showed them how to create. His 5-day 'Business Millionaire Hyper-Wealth Development Sessions' sold out within three weeks - at a fee of £35,000 per participating company.

His books are rare treasure chests of philosophy, concept and actual method that will - if you apply them - put you on your way to irrefutable success and great personal wealth in business.

Although now sadly out of print, these powerful, no-nonsense and application-specific books are being made available again in all main ebook formats so the next generation of entrepreneurs can discover and adopt the most powerful business-building strategies and success principles ever developed.
Books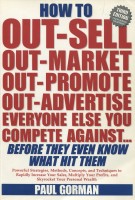 How to Out-Sell, Out-Market, Out-Promote, Out-Advertise Everyone Else You Compete Against... Before They Even Know What Hit Them
by

Paul Gorman
Powerful strategies, methods, concepts and techniques to rapidly increase your sales, multiply your profits and skyrocket your personal wealth. "This book is an eye-opener to success and wealth through proven strategies - if you don't feel inspired when you read it, you best check yourself for a pulse!" "The sales from one specific ad increased from £2,000 to £11,000 - I call that spectacular"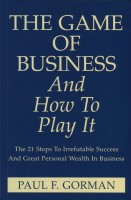 The Game Of Business And How To Play It
by

Paul Gorman
(5.00 from 1 review)
The 21 steps to irrefutable success and great personal wealth in business. Tens of thousands of business owners, directors and professionals have taken Paul Gorman's powerful marketing advice and seen their enterprises shoot to the sky in just months (typically 18-36 months).
Paul Gorman's tag cloud