Dr. Paul Kenyon
Dr. Paul Kenyon is a licensed Naturopathic physician in the state of Hawai'i. He has practiced Natural Medicine for 35 years, with an emphasis on chronic, non-resolving, degenerative diseases. He was born in Massachusetts in 1947. He remained on the East Coast until 1966, at which time he enlisted in the USAF. He served a year in Vietnam and then volunteered for a second year in the war zone in the States Special Operations Command as a crew member aboard air force gunships. He was honorably discharged in 1970. He is a "disabled vet," which is why he decided to study medicine and devote himself to the healing arts. Dr. Kenyon attended the University of Hawai'i from 1970 to 1979. He holds a BA in psychology with graduate work in psychotherapy and counseling. From 1977 to 1979, he concentrated on pre-medicine courses. In 1979, he was accepted to begin training at the National College of Naturopathic Medicine in Portland, Oregon. After graduating from NCNM in 1983 and receiving his license to practice in Oregon, he decided to return to Hawai'i. In 1984, he established a private practice in Waikiki. In 2004, he returned to Massachusetts where he now resides.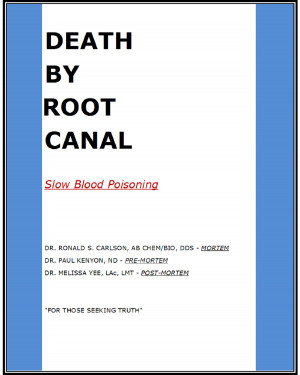 Death By Root Canal
by

Dr. Ronald S. Carlson

,

Dr. Paul Kenyon

, &

Dr. Melissa Yee
Root canal therapy is often claimed to "save" teeth, but in reality, there is nothing to save. A root canaled tooth is a dead tooth, notes long-time dentist Dr. Ron Carlson. In Death by Root Canal, Dr. Carlson clearly and concisely explains why and how root canal teeth become harbors of infection and a systemic health burden so you can take charge of your health and well-being.