Paul Pellew
Biography
Paul Pellew (a.k.a. Paul Ting, Jun Ding) was born in Tsingtao, China, on April 16, 1947. He grew up in Shanghai. After being unable to finish his final year in high school, because the Cultural Revolution erupted in 1966, he was deprived of a university education during the ten years of disturbances in China. However, he never gave up pursuing knowledge, and tried hard to educate himself in various fields. He overcame many obstacles and entered the East China Normal University in 1977, after the death of Mao Tse-tung and the reintroduction of the Chinese university entrance examination, majoring in Chinese Literature and Chinese Language. After his graduation in 1981, he gained a chance to engage in advanced studies of English in Lincoln University in San Francisco, U.S.A. He accepted a job offer after he finished his course in 1983, and worked as a manager in Lagos, Nigeria. Two years later, he was engaged to work as a Chinese teacher in the Official Language School in Barcelona, Spain, and, after 27 years of service, he retired in 2012.
Books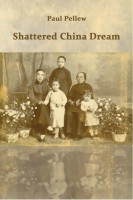 Shattered China Dream
by

Paul Pellew
For 100 years, three generations of the author's Anglo-Chinese family lived in China. They were unfairly treated due to their mixed blood, particularly in the era of Mao. After more than 20 years of studying, researching and verifying Chinese Modern History as well as family history, the author tells a remarkable true story of three generations living in China and tracing their British ancestry.
Paul Pellew's tag cloud