Paul Austin
Biography
I came from loving parents and grandparents, and they wanted the best for me. But I dropped out of school and embarked upon selling drugs, among other things. I was framed by members of the Columbus, GA police department. While in prison I underwent a transfiguration.
And henceforth I will express myself through writing. Moreover, there will be a book 2, to Messege for Black Male Teenz In America. I also encourage you to read my book: Injustice In Georgia! In paperback and e-book form. Order at Amazon, Barnes & Noble, and Authorhouse Publishing.
I am a lover of the truth! And I believe in freedom, justice, and equality for all. And I would love to see the day when all human beings will live together in peace and harmony! Or by way of separate governments. And that will indeed be heavenly.
Books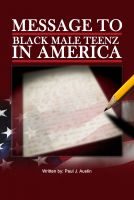 Message To Black Male Teenz
by

Paul Austin
This book is a sincere attempt by the author at trying to persuade the black male teens in America to start learning to love themselves first! And to stop the madness of murdering each other, and to start resolving their problems by a non-violent, peaceful resolve! Moreover, the author is also endeavoring to persuade the parents to start encouraging them to read at a younger age.
Paul Austin's tag cloud